Brentwood Bruins Football
Long-Term Proven Success
Brentwood High School will be celebrating its 40th football season in 2022! Year in and year out, a commitment to athletic excellence by our coaches and players has built a successful football program. Since 1993, every player on the varsity team has experienced at least one post-season playoff victory. Our program's reputation for athletic and academic excellence is well-established and recognized by universities across the nation.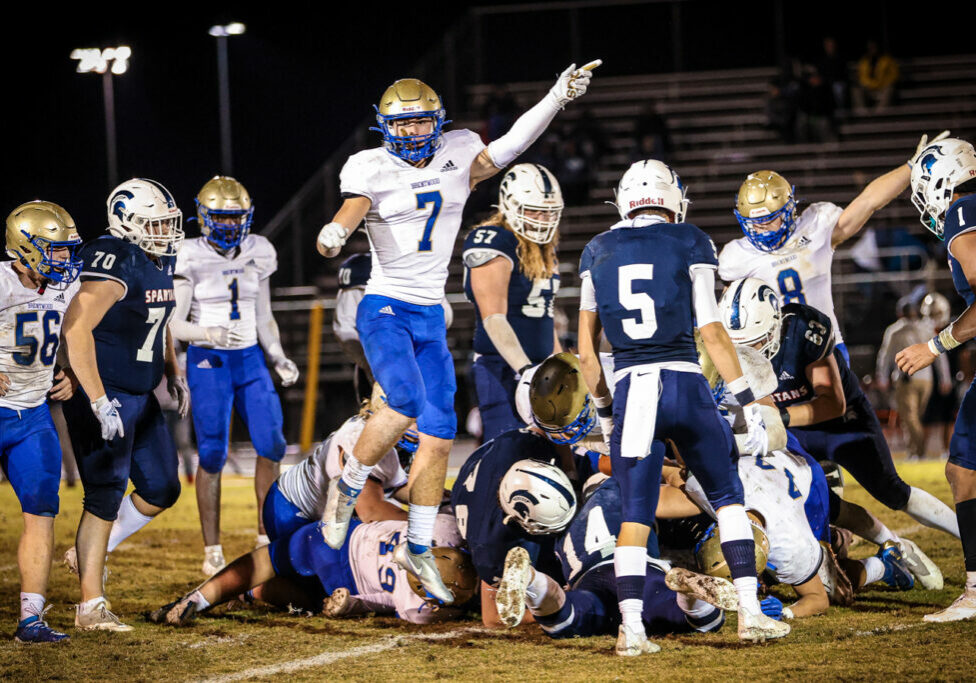 Talented and Supportive Coaches
We have fourteen coaches, thirteen of whom are full-time teachers at Brentwood High School. They are all excellent role models and mentors for your sons in school and on the football field. Family is important to all of them. Coach Finch had two sons participate on the team all four years, Coach Brock is currently a Bruin Dad and two of our coaches are former Brentwood Bruins football players, Coach Jacob Norfleet, and Coach Hunter Schmeisser. They know what it is like to be a Bruin parent, or a past Bruin player and their experiences help strengthen our program. Most important of all, the coaches truly care about the young men on the team and walk with them through victories as well as difficult life challenges.
Year-Round Athletic Training
Our players receive year-round athletic training in weightlifting, fitness, speed, and agility. We have two Certified Strength and Conditioning Specialists on staff, Coach Charlie Sanford and Coach Steve Brock. The centerpiece of the Bruins weight training program is our well-equipped workout facility which includes 12 full weight racks each with auxiliary weight equipment. Brentwood High School has the best weight training facility of any Williamson County school. Each of our weight racks are equipped with wireless tablets for entering weight training information into each player's individual TeamBuildr account which is our strength and conditioning software program. We use the Hudl software program for video analysis.
Academic Excellence
According to U.S. News and World Reports, Brentwood High School is ranked the #1 high school in Williamson County and the #1 public high school in the State of Tennessee that is not a magnet school. BHS students are ranked highest in college readiness compared to all other high schools in Williamson County and 88% of our students participate in at least one Advanced Placement course and. At our most recent football banquet, 53 out of 99 players on the 2021 football team earned the TSSAA Academic Achievement Award by having a GPA of 3.5 or higher.
Highest Quality Protective Equipment, Gear and Resources
The financial support of the Brentwood Bruins 12th Man Club makes it possible for us to equip our players with helmets that have the highest possible safety rating. Our Riddell and Schutt helmets are all less than six years old. They are refurbished each year and tested for safety. Each varsity player is provided with three different game jerseys, game pants, practice uniforms, t-shirts, shorts, sweatshirts, and workout pants. Our Certified Athletic Trainer, Kelly Stephens, is present for all practices and games. Ms. Stephens, Dr. Scott Arthur and the staff at Bone and Joint Institute provide the highest quality care and treatment for our athletes.